The Rector Family Table : A Poem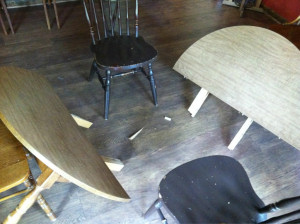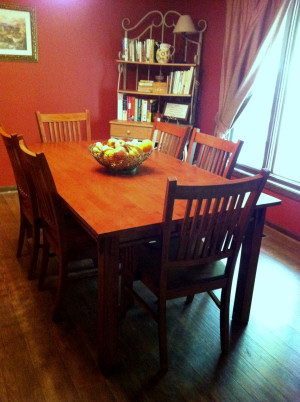 Our dining room table broke. My dad fixed it but Roy and I decided it was time to buy a new one.  We then realized that we had not purchased a new table since 1982!  We bought that table right before our 3rd child Adam was born and it lasted us many, many years until we put it out to pasture in 2004. We used another table my folks gave us for a short time and when we moved to a bigger house they gave us another larger table to use with mismatched chairs. This was the table  that just fell apart. Literally.
The purchase of a brand new dining room table had me thinking a lot about the one we bought in 1982 and used for over twenty years.  As tends to happen on occasion, it inspired me.  I went through my old photos and gathered some pictures, then I wrote the following  poem.
THE RECTOR FAMILY TABLE
By Nancy Rector
 The year was 1982.
Married, in year four.
We bought a brand new table
From the R.C.  Willey's store.
A sturdy piece of furniture,
To hold our growing  throng.
(Though many rears, through many years,
Did grace its benches long.)
 It saw a lot of birthdays,
Puzzles, games and crafts.
Held Cub Scouts, kitty cats and friends,
And many, many laughs.
Those benches, oft recovered,
Could squeeze in  four or more.
(Though sit alone upon an end,
You'd wind up on the floor.)
From our babies to our grandkids,
That table did it best.
It held us 23 odd years,
Till it was laid to rest.
So here's to that old  table.
Though inanimate its true.
You held the things we loved the most.
And we give our thanks to you.
TWENTY YEARS OF USE
(The first photo on the top left is our son Adam, who is now 29)